4th Session of the Forum on Minority Issues
---
UN Minority Forum Examines the Situation of Minority Women and Girls 
November 30, 2011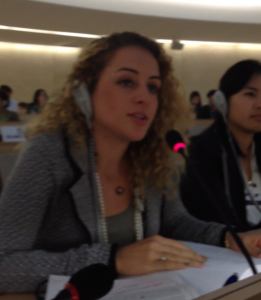 Geneva – The Fourth Session of the United Nations Forum on Minority Issues convened in Geneva, Switzerland from November 29-30, 2011. The Minority Forum is meant to identify best practices, challenges, opportunities and initiatives for the further implementation of the Declaration on the Rights of Persons Belonging to National or Ethnic, Religious and Linguistic Minorities.
AUA Americas' Global Policy Director Alen Mirza and Assistant Director Jennifer Babaie provided interventions focused on the situation of Iraqi Assyrian women in post-conflict situations. In her statement, Jennifer Babaie advocated for specialized bilateral and multilateral bodies aimed solely at battling human trafficking among Assyrian women refugees. Alen Mirza recommended the establishment and support of civil society groups for Assyrian women in Iraq as a means of combatting economic and political disenfranchisement.
The Forum on Minority Issues concludes with a set of recommendations to states, UN bodies, and NGOs on better implementing the rights of minorities throughout the world.
ADDITIONAL RESOURCES
Full text of AUA Americas' statement
Recommendations developed at the Forum on Minority Issues
Press Release